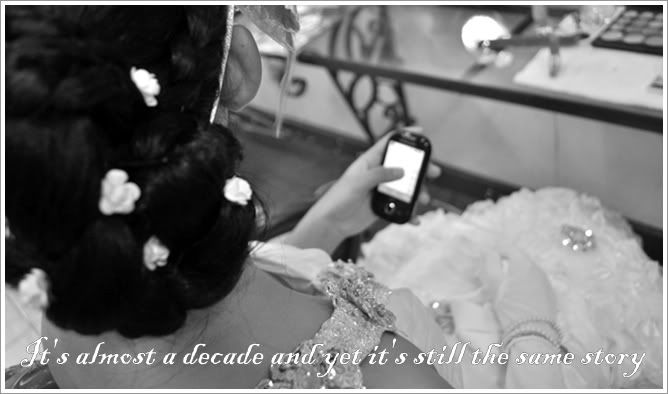 Hello, everyone! How time seems to fly us by, don't you think?
Since I was my sister's Creative Director-slash-over-all stylist, I made sure that she will have an unforgettable night. As you can tell, I was more than happy to guide her. If only I knew then what I know now. Oh well, enough with the yearnings, it doesn't matter anymore. At least, I can impart my learning experiences to her. And there were a lot.
Anyway, I want to do a Prom Special here on my blog since that's my frustration. It has been my dream to become a magazine writer for Candy or Seventeen. Seeing as that is next to impossibility, might as well take advantage of the influence of internet. I get published in the least. teehee. :p
So here's my TOP 5 LIST OF WHAT YOU SHOULD KNOW WHEN ATTENDING PROM:
1. THE DRESS
Whether it's a long gown or a cocktail, flowing and dreamy or Princess-y and ballgown, your dress on Prom night should be what you have always envisioned yourself wearing! If you're a true girly-girl, I'm sure you have stacked photos of your dream dress. And if you haven't, well, I know you can pretty much sketch the whole thing straight out of your vision. Just remember that your dress shouldcompliment your body structure. No matter how beautiful your dress is if does not flatter you in all the right places, then it is a fiasco. Likewise, a simple outfit could make you a stand-out if it fits you perfectly.
2. THE SHOES
Girls at 14-16 hardly wear high heels due to restrictions imposed in school rules. Flat leather shoes are only allowed in the school premises blah blah blah. Of course, school administrators know that high heels only pose danger to students. Could you just imagine trudging up and down the stairs to your 6th floor classroom in your 5-inch stilettos? I don't think so. But during Prom night, you are finally allowed to don heels at your own choosing! However, keep in mind that this is your FIRST TIME. Try 3-inch shoes with thick platforms and stable heels to provide you with more balance. In this way, you can enjoy dancing the night away without worrying too much about your aching feet!
3. THE ACCESSORIES
They say that accessories can make or break an outfit. With that being said, try to balance everything. If your gown is already heavily beaded in the neck, then probably you can lay off on that necklace. Or if your gown is too plain in the front, you can wear dangling or drop earrings, some bracelets and a ring. Whatever your dress is, the key is to equalize the whole outfit together to bring all things into harmony.
A trusted Hair and Make-Up artist is essential. Before going to your appointed schedule, you must have a clear idea of what you want your hair to be done or your face made up. Your HMAU artists are not psychics. Thus, they do not know exactly what you want. They can try to match your look with your dress but a vivid imagery of what you want things to run is better. Try scouting for that hairstyle you desire beforehand and show a picture of that to your HMAU artists. A very intricate style might not feasible. Keep an open mind and try to compromise. After all, your HMAU artists sure know what's best for you!
5. YOUR DATE
What is Prom without that dreamboat you've always fancied about? This is finally your chance to go out with someone with your parents' wholehearted consent. However, not all stories have similar happy endings. Probably that guy you've been eyeing on already asked someone out. Or that person you wanted to go with is a senior and cannot attend and you're too shy to do the inviting. There might be several reasons why you are stuck in a panic, dateless. Relax. Breathe. Prom does not always spell romance. Sure, it's your one chance to live your dream of being in the arms of your crush, but that's not the be-all and end-all. An honest-to-goodness guy friend might be a sound idea. After all, having known each other, all the awkwardness will be gone and you will spend the rest of the night laughing your hearts out and having the time of your lives.
And who knows, after that fateful night, things will stir up in its natural course. *wink, wink*
Miss E